Skoluda Wolfgang
Germany
skoluda.com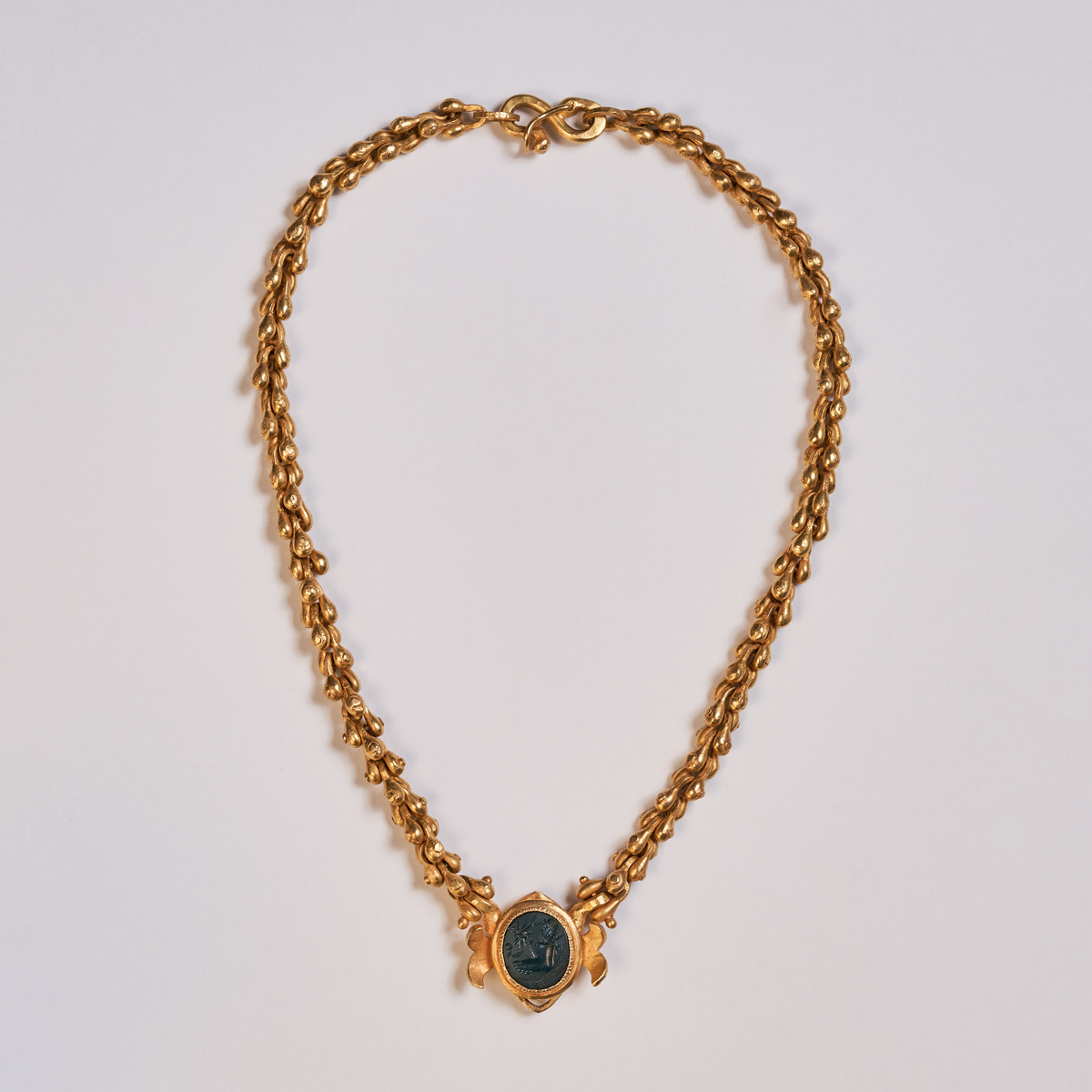 Kurze Kette mit einem grünen, römischen Jaspis-Intaglio. Dargestellt ist der geflügelte Fuß des Merkur, seine Büste und ein üppig bestücktes Füllhorn. Die Kette besteht aus Schäkeln ähnelnden ungegossenen Gliedern. Länge 40,5 cm. 115,6 gr. 900er Gold
© Benne Ochs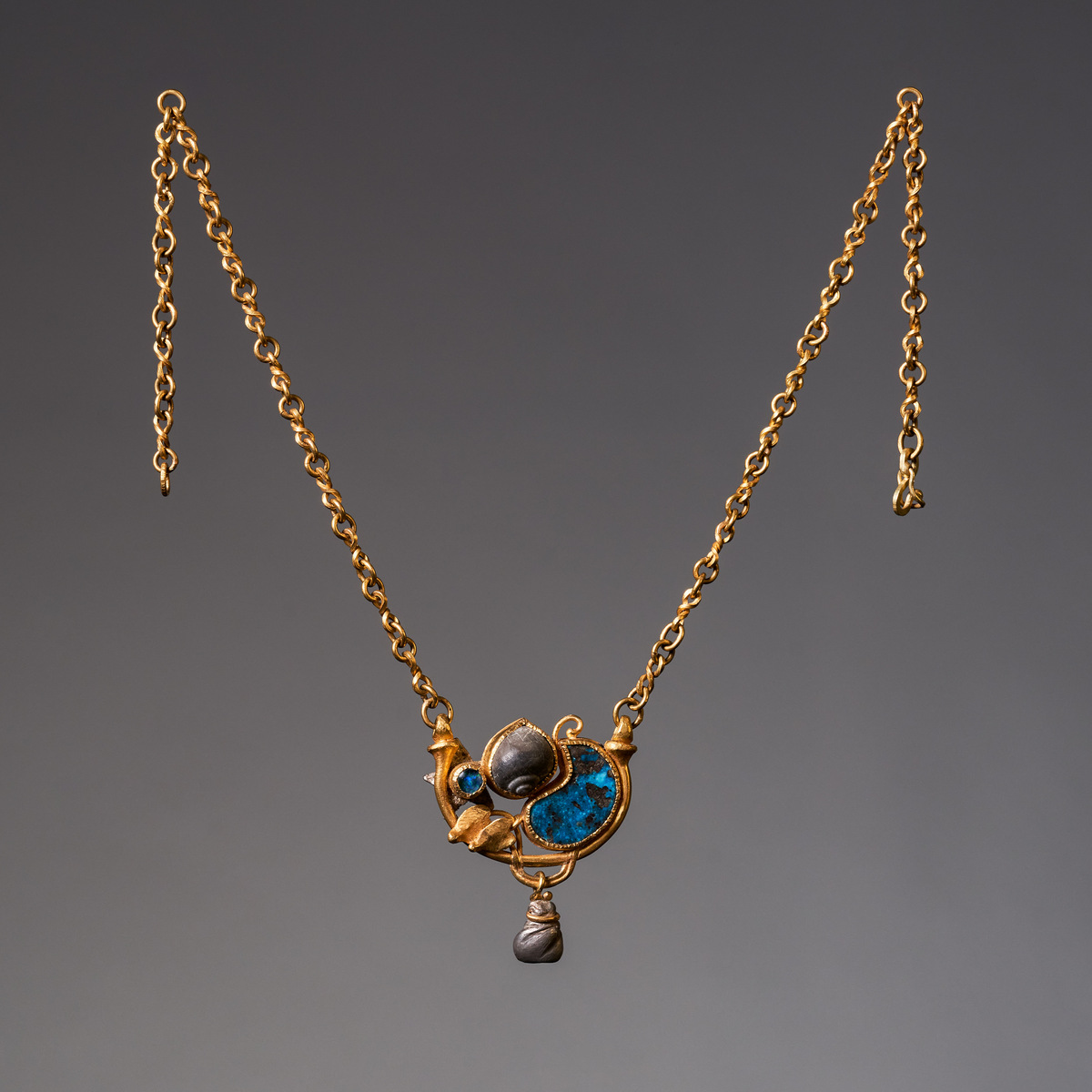 Hänger an halblanger Kette. Im eingefügten Hängerteil "Strandgut von der Elbe" u.a eine versteinerte Schnecke, ein tibetisches Türkis-Inlay und ein silberner Beutel von Friederike Rohse. Länge 47 cm. 54,6 gr. 900er Gold, 7,8 gr. Silber. Aiuch hier ist nichts gegossen.
© Benne Ochs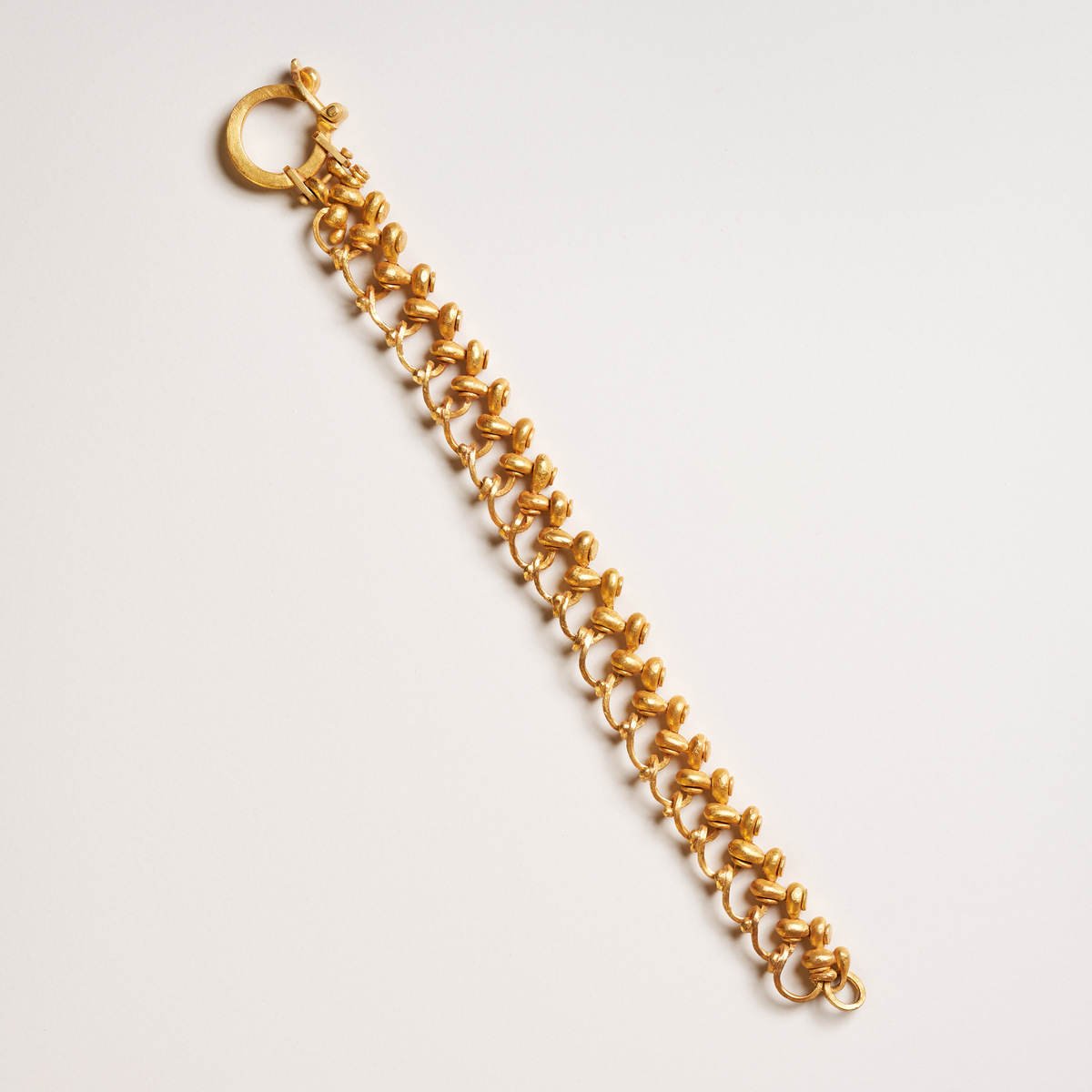 Armband aus zwanzig Gliedern und Verschluss. Die tropfenförmigen Gliederteile werden mit Scheiben in ihrer Position gehalten und durch die Verbindung mit den Vierkantdrähten gehindert sich in alle Richtungen zu bewegen. Auch hier ist nichts gegossen. Länge 20 cm. 75,6 gr. 900er Gold
© Benne Ochs
Let me be blunt: I would rather work on a new piece of jewellery now than write about my work here. The pieces should speak for themselves, that's what they were made for. I've been making jewellery for sixty-two years and I still love making necklaces. One-of-a-kind pieces, of course. There shouldn't be any others, because people are individuals too. Those who, like me, passionately combine antique spolia, cameos, even their fragments, with antique glass and stone beads should be careful not to get too close to antique designs. For the result could look like a copy, even worse, like a fake.
In the catalogue of the Frankfurt exhibition, Sabine Runde surmised, "Because I was bombed out in Hamburg as a child bombed out as a child in Hamburg, perhaps that's where my passionate relationship to antiquities and the desire to protect them and the desire to protect them and, if they are damaged, at least to make them look healed. When I send them on a journey through time again, it is so that they can do justice to their task: To convey that antiquity is also a part of our lives.
© Benne Ochs